Art and Society investigation
between School Art & Wall Parietal Art
Project EMBEAUTIFY THE SCHOOL -- Léonard de Vinci in Fontainebleau, primary international school see the realisations and themes of the 11 classes
Atmosphere - electric ambience - installation.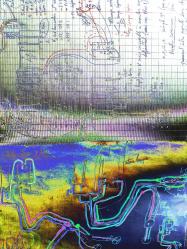 It's about alternating artistic current in phase with our situation. Under confinement we are not allowed to open the doors so we try to open the panel frame, cross behind and find a new art installation. We made studies, sketches. Be carefull the system has tripped !

electricity and landscape > see +
confinement in and out
Reconfinement of november:
In spite of this confinement a lot of people appeared : COME IN !
to see + : come in
In spite of confinement ther is a lot of people here. In fact all these presences were hidden inside plastic and paper piles in which I almost drowned myself.
May be it's one of the global warming result.
In-between confinements from august to october: exhibition Carved Wood - from EARTH to SKY
Saint Blaise des Simples chapel gardens, Milly-la-forêt, 91490(Essonne)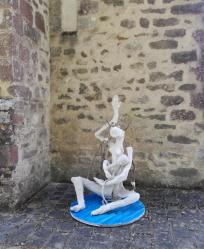 Dialog with Cocteau, garden, chapel - > voir + : cultural tree

Art and society


After the confinement order, the disconfinement in order to go in and out. But what happened ? Instead of all the strange people, presences born out of the black iPhone screen from activities traces and drawings (> images-in e-screen) which are gone > see Going out... but! , then > Art and Society

NON VIRTUAL MULTIMEDIA... SOFT NEW TECHNOLOGY...
Email contact : jandj.atelier@free.fr

Nativity see + Reflection... Many

Chacmool

From life to death. friendship energy and memory boost.
Stars dust composed or libarated out of probabilities, rythms and inaudible sounds.
Between past and future.








- The artistic ME is complex and collective by nature because it feeds on concepts, contexts, subjects, techniques, materials, artists, men and women and YOU.
- And the work? A "happy accident " merging at the point where concrete materials meet and reappear carved out, welded, cut out, hand-in-hand with light, the light of 'being human', stripped and skinned alive, the shapes dissolving.
- Industrial materials keep their manufacturing scars, while reused materials show marks of having lived, and we convert these essential features into "Already Left" or "Back to the Street" (in memory of the old "Ready Made").
Art works don't have a lot of rational logic - they're a reference limited
by the earth' s powers and you just picks up the thrilling momentum.